Shopping Cart
Your Cart is Empty
There was an error with PayPal
Click here to try again
Thank you for your business!
You should be receiving an order confirmation from Paypal shortly.
Exit Shopping Cart
So the "official" Canadian Kennel Club (CKC) registrations have arrived. These are the documents that not only ensure that your dog is purebred. These are the documents that mean you can claim your dog is a Labrador Retriever. As funny as it may seem, without these papers, it is a violation of Canadian Law to call your dog purebred or any specific breed. Before we got our first dog Koko, I had no idea that it mattered. But 19 years later I know it does. It matters because it ensures that the breed maintains standards. It matters because the CKC is a group of volunteers and paid administrative staff that have a passion for dogs. It matters because it is a way to ensure that we are improving breeds and canine health. 
It is a way to track parentage and if a canine health issue is found, a way to contact owners of these dogs so that they are aware of it. For instance, there was a litter in western Canada where the males were dying from narcolepsy. They determined that this trait was sex linked on the X chromosome and all the males got their X chromosome from their Mom.  The females from the litter got an X chromosome from each parent, and the one from their father masked the disease. Only some of the girls were carriers, but for those girls, it was recommended not to breed them, as the same issue would arise in their off-spring. That's why we tested Maggie for this disease and she is not a carrier.
Registration is also a time to pick a really neat name for your Dog. We tend to name all our dogs: Mom's name, Chocolate Clan, call name. This time we thought we could try to be a bit more creative, in part because we had a second Stanley out of Maggie, so he is Chocolate Clan Lab's Stanley.  Aren't we daring.  But we also have a couple where we used our "official" CKC Kennel Name Mekokama (Me for Meg's Chocolate Clan Koko, Ko for Koko's Chocolate Clan Kassey, Ka for Kassey's Chocolate Clan Maggie, and Ma for Maggie.......but wait we named Hope Mekokoma's Bustin' with Hope). Also Rusty's name is Mekokoma's Gun Dog Rusty.
So we draw our 2017 litter to a close, knowing we will all continue to enjoy these new family members, we hope for many years to come!
WEEk EIGHT IS HERE! It is a celebration for our Forever Families as they finally get to take their pup home.  For us it is a celebration as we know are pups are healthy and ready to go. But it is also incredible sad 
 as we miss these little guys.  The thumping of feet, the squeals, and the coos as they play, these are the sounds we miss.  Even as we downsized to seven, we could tell there were fewer.
We were very excited on Monday to send our first two pups to go, all the way to Newfoundland. Tucker (blue stripes) and Stanley (teal squares) were put onto a cargo plane in Calgary and flew all the way to St. John's. We wish them and their new families well.
Also on Monday, we took down Rusty (blue paws) to his forever home in Calgary. There was to have been a big snow fall over the next few days, and it just didn't seem right to challenge Rusty's new Dad to have to come up to Lacombe two days later.  So good luck to Rusty as he becomes his Dad's new hunting buddy!
For some of you, I just want to reiterate how important it is that the pups stay with us until they are eight weeks old (at least).  As Maggie has been weaning them, she has also been playing with them and disciplining them. It just happens that the three pups that left on Monday were our biggest and/or most dominant.  Maggie had already spent time disciplining them.  So without them around she can now find some time for the rest of the clan.
I am still going to collect the pictures and videos that we captured over the past week or so and put them online.  I know you will be busy with your new pup, but you might like to see how little they used to be, and how funny they were!
I have been getting a few requests for information on what we are feeding the pups.  While I have posted some of this information under Puppies: Feeding Puppy http://www.chocolateclanlabradors.com/feedingpuppy.htm, some of this information is rather general in nature.  So the following is an update as best as I can do:
Milk and kibble (birth to 4 weeks): At birth, the pups drank mother's milk.  The initial colostrum is important for protecting the pups for those first few weeks of life as they have no natural immunity of their own. However, the demands on Maggie as the pups grow was astronomical.  She was eating 12 to 16 cups of puppy food herself during that period. As such we had to ensure that the food had enough fat to ensure she had the calorie supply she needed. So we were feeding ProPlan Focus Puppy Chicken and Rice.  In the beginning, when we introduced food to the pups when they were at 2 weeks, Maggie ate most of it. We soaked the kibble and mashed it so pups did not need to chew and mostly lapped it up. As they grew and got teeth, we reduced moisture. So in the beginning, it was important to meet calorie demands of mother and pups.
Weaning and growing from 4-8 weeks: At four weeks, Maggie started to wean the pups. For those of you who visited during that period, you will quickly understand that with those sharp teeth and nails it was actually hurting her to feed the pups. It was only the great need to feed the pups and drain her teats that was keeping her going into the nursery. By this time the pups were starting to eat all the food we put out, so it was no longer necessary for it to meet Maggie's calorie demands. We changed the pups over to ProPlan Focus Large Breed Puppy. From 4 to 6 weeks, we decreased the amount of soaking and changed it to completely dry by seven weeks. We also increased the amount we were serving each time from 1/4 cup per pup to 1/2 cup per pup.  Right now we are feeding them four times a day. For most families, it will be tough to feed four times a day, and these guys are growing so fast, and eating so fast, that reducing the number of times you feed to 2 or 3 should not be an issue.
REMEMBER CLEAN WATER is essential as the pups are on dry food.
POST NURSERY (after 8 weeks): Your pups will be growing fast and playing hard so they will need food for growth and maintenance.  It is important to keep them on puppy food for at least the first 12 months of their lives. Puppy food has the right balance of fat and nutrients, so the pups have energy to grow and play.  But it is at a rate that allows their bones to form in a balanced manner.  We want them to have healthy bones and the right conformation to prevent early injuries, especially to those back knees. Torn ACL's is one of the most common injuries to large breed dogs. You can help to prevent it using three strategies: don't spay or neuter your animal too early (12 to 18 months at the earliest); do feed a good or high quality dog food with the right balance of protein and fat; don't do high impact training or playing until your pup is 12 to 18 months old.  The later does not mean you cannot play with, or train, your pup. Just do it all in moderation.  
Weird stuff: These are lab pups and will put anything and everything in their mouthes.  So be careful what is left around for them to get into. Garbage is going to be a BIG attraction for them, so until you get them trained be sure it is not available to them to get into. Right now the pups are chewing on the walls, the carpet, the plastic and the paper that is down to protect the floors. So if you find some interesting things in their first poos don't be surprised.  Those little strings are OUR CARPET! As well since it has been nice out, the outside area has some plant material that they are eating.  So there may be a leaf or two for that first day or so. Do look at your pups poo. It should be solid but not too hard.  If it is hard then your pup may need more access to WATER. If it is too soft then your pup may have eaten something it should not have.  If it is diarhrea, watch closely, as your pup may have picked up a parasite.
Besides turning 6 weeks old last week, our puppies also went to the vet, and Dr. Cindy Nowle checked them out.  Please see Day 42 for pictures of the puppies at the vet.
So when I send the puppies to their "forever homes", I will be sending them with a portofolio from our "Lacombe Veterinary Centre". It will include their Health Record as well as lots of information about your puppy, medical insurance, spaying/neutering, etc. 
When it comes to the health record you will find your pup's microchip number on the front page.  Don't loose this, as this is how you find your pup if he/she should ever get lost and found by someone else. So at six weeks on December 6, 2017, our pups got their first shot that included distemper, hepatitis (CAV-2), parainfluenza, and parvoviris using Vanguard Plus 5. To be effective the pups need their next booster shot before they are 12 weeks (3 months) old. At that time they will also be old enough for their first rabies shots.  So while the little guys and gals have started their innoculation journey, it has just begun. So exposure to other dogs that may not have their shots is not recommended: so for now avoid spots where lots of dogs congregate, including dog parks, post office boxes, and hydrant poles.
We had dewormed the pups at two and four weeks with strongid, so on December 7 we moved to Hearguard that has a larger spectrum.  We will repeat the Heartguard on December 21. The pups were also weighed, had their temperatures taken, their lungs and hearts checked.  They were all clear. Also Dr. Cindy felt no hernias and all their joints seemed to be working freely.  The boys all had two testicles. 
While the pups were clear of any ear mites, when daughter Sarah came home on Saturday she brought Grace (Maggie's sister) and two kittens home with her.  We took the kittens in for their first shots on Monday, and discovered they had ear mites.  So when we checked, Grace has them too. So everyone got treated with Revolution: kittens, Grace, Maggie, Kassey, and the ten pups.  It was quite the process as each pup had to be separated from the others and Maggie for at least a half hour to allow the solution to dry. We do not believe there was any transmission of mites to the pups, but when you take them for their first vet check up you may want to mention it.  The earliest you would re-treat is one month from December 11. We are not going to retreat Maggie or Kassey or Miss Silver, but are going to retreat Grace and the kittens (Monster and Cali). Revolution is a selmectin topical solution used for control of fleas, ear mites, sarcoptic mange mite, ticks, hearworm and roundworm disease.  These pups are not going to have any parasites on or in them!!!
Can you believe it, not only are our pups six weeks old, I also had to cut off the inquiries on Saturday, as we were getting so many applications.  I would like to thank all those who inquired about our pups.  I would like to thank all those who put in applications, as each and every one of you could have been selected as a forever family.  However, we ran out of pups.  So Congratulations to those we did select as our forever families.  Here is the list (please let me know if I have got any of this mixed up):
Girls
Red: Shawna
Pink (Harley): Michella
Purple: Family X (Christmas surprise)
Miss Silver:  Pat and Dave
Boys
Blue Paws: Mike
Camo: Jenn
Teal Diamonds: Kirstein Family
Mr. Silver: Todd and Tyler
Teal Squares: Mat and Kathryn

Blue Stripes: Colleen and Dave 
Where has the time gone?  We have been so busy the past two weeks.  First we opened the nursery up to the hallway so the pups would have a bigger play area.  Also it funnels them to the outside, so starting this past weekend with weather on the plus side of freezing we got them outside.  Not for long, but at least they have seen the sky.  And then we opened the nursery up to "Forever Families". And what a wonderful group of people to come and visit the pups.  So there is no need to worry about these little guys and gals never seeing people, because they have come in all shapes and sizes. Thank you to all who have applied.  Although we had a flurry at the start, there were a few weeks there when we were wondering where our homes were going to be. Then this past week, it has been difficult keeping all the requests and applications straight. So this weekend, I will take some time and get them all straightened out and our last homes approved.
The pups are so big now, Maggie stands to feed them.  What a hoard! The pups have also learned to drink water.  No fear there. And our upper hallway is now a play and crash area!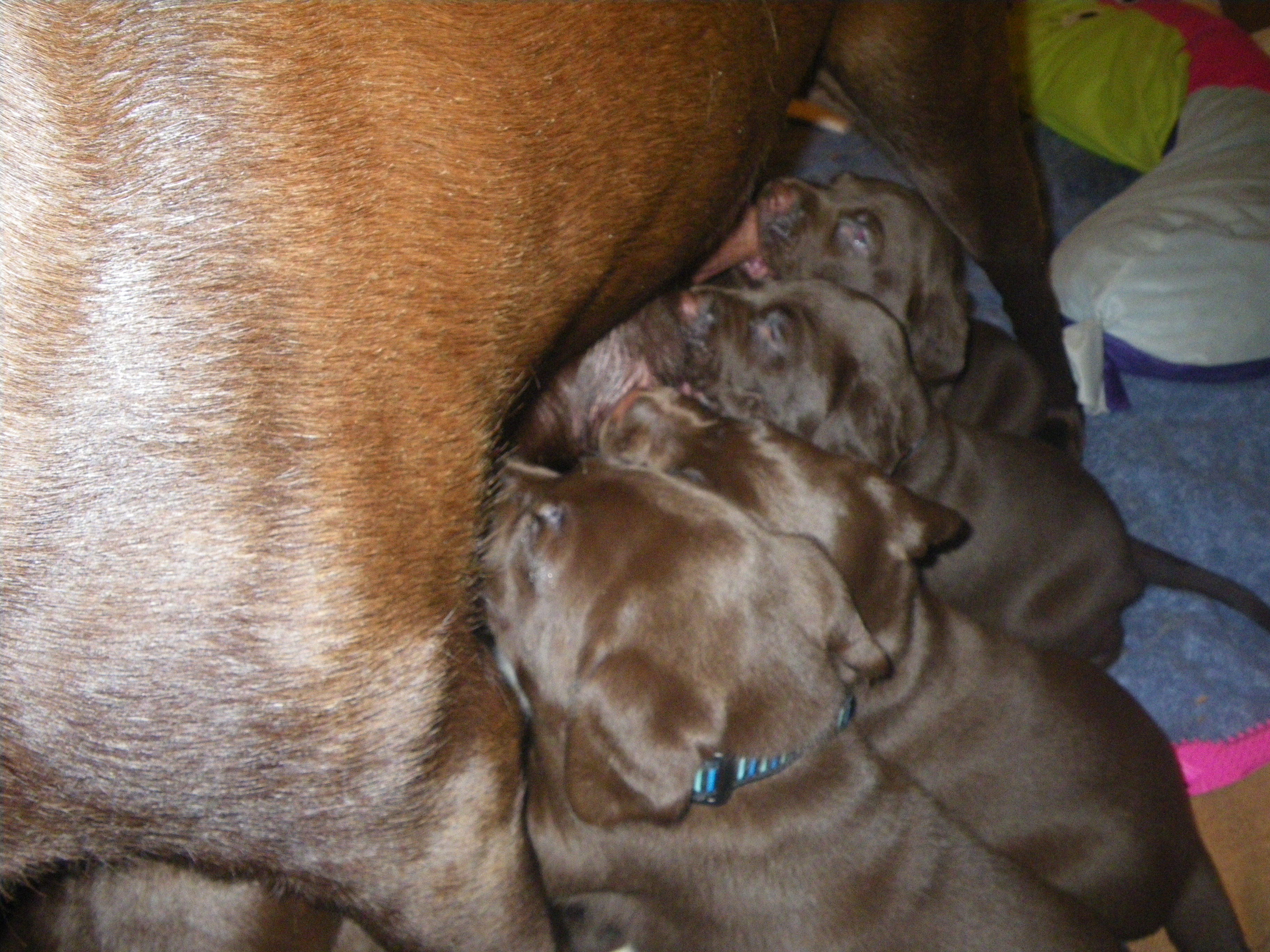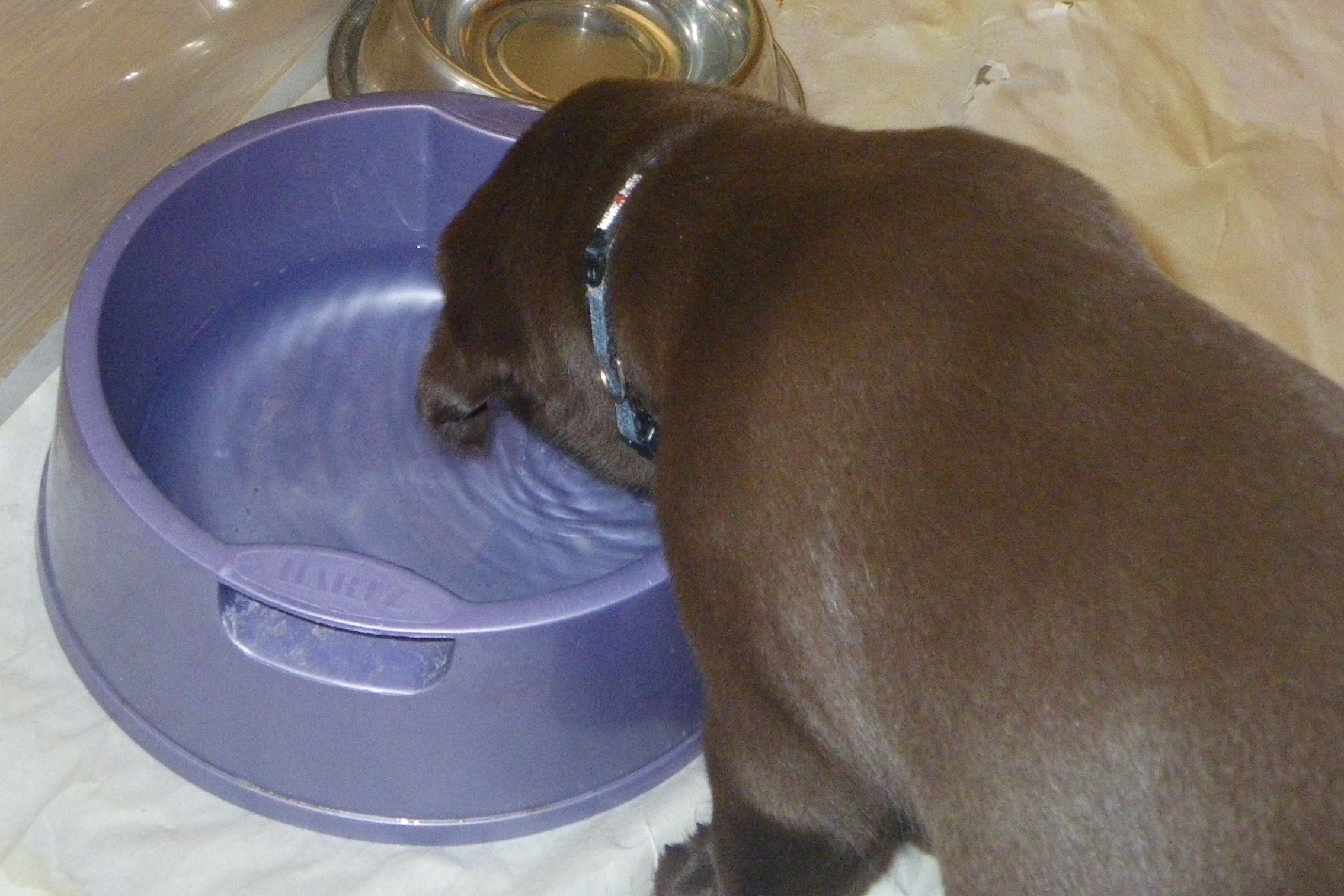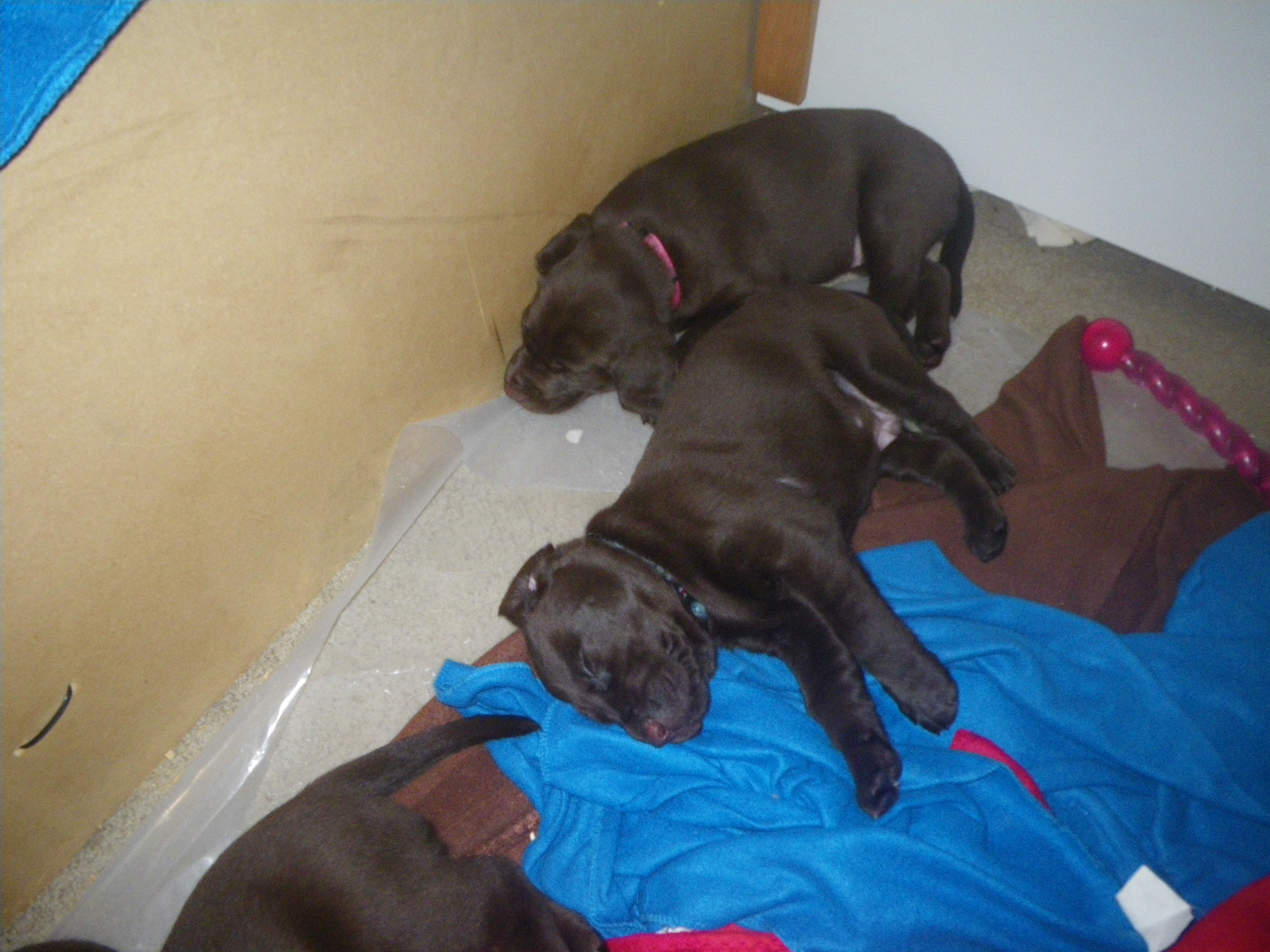 Setting up the whelping room went very well. But with the transfer from the pool, more and more work to keep the pups clean now goes to Dave and Me.  So we have been busy.  As well we have been introducing solid food and it has been a hit and miss learning experience.  Our two blue pups need no help in learning how to eat.  But we have a few smaller pups that are a little slower at picking it up.  They also were a little slower getting their teeth.  Yes that is right, our pups now have razor sharp teeth and are starting to bite toes and one another.  Nothing is safe from their jaws.
Another big thing is getting their collars.  For those of you who have been following the pups so far here is the list of who's who.
The Girls
Miss Pink Rear is now Miss Harley Pink
Miss Pink Right is now Miss Reflective Heart Pink
Miss Red Left is now just Miss Red
Miss Purple Right is now just Miss Purple
The Boys
Mr. Blue Right is now Mr. Blue Stripes
Mr. Blue Left is now Mr. Blue Paws
Mr. Green Right is now Mr. Teal Squares
Mr. Green Left is now Mr. Teal Diamonds
Mr. White is now Mr. Silver
Mr. Yellow, was Mr. Black for awhile, and now is Mr. Camo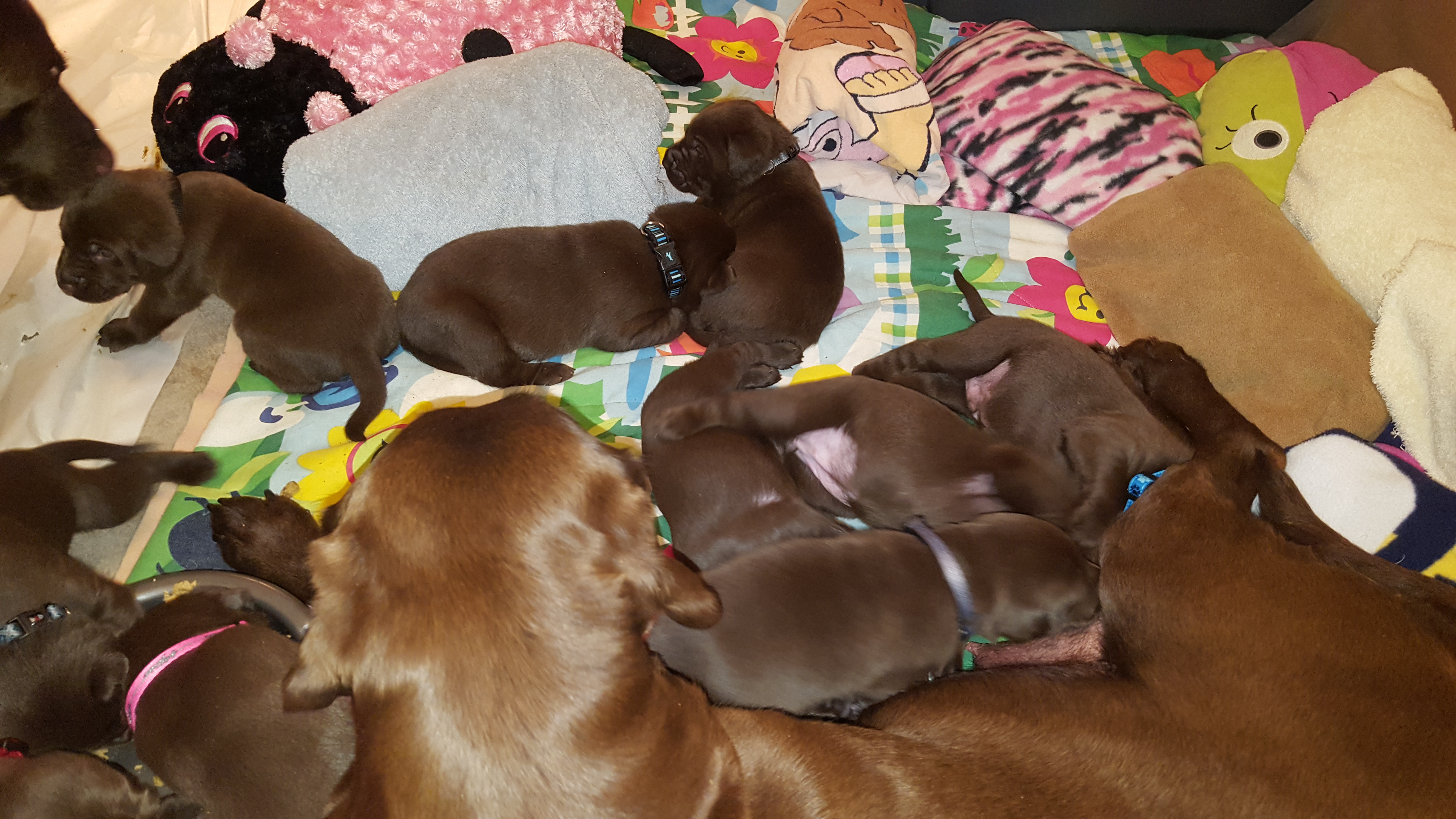 Puppies grow fast. In the past three weeks, they have transitioned from images on an x-ray to walking, talking, eating, seeing, and hearing. Maggie has been a tremendous Mom, keeping them fed and bathed.  But as we transition them to puppy kibble, even she is having a hard time keeping up with the poop.  So between food, poop, and ten pups, the whelping pool is getting too small. Today we are going to set up the whelping room as a nursery, and give everyone more room.  This way we can hopefully get them to pee, poo and eat on the paper side, and play and sleep on the blanket side.  Will keep you posted.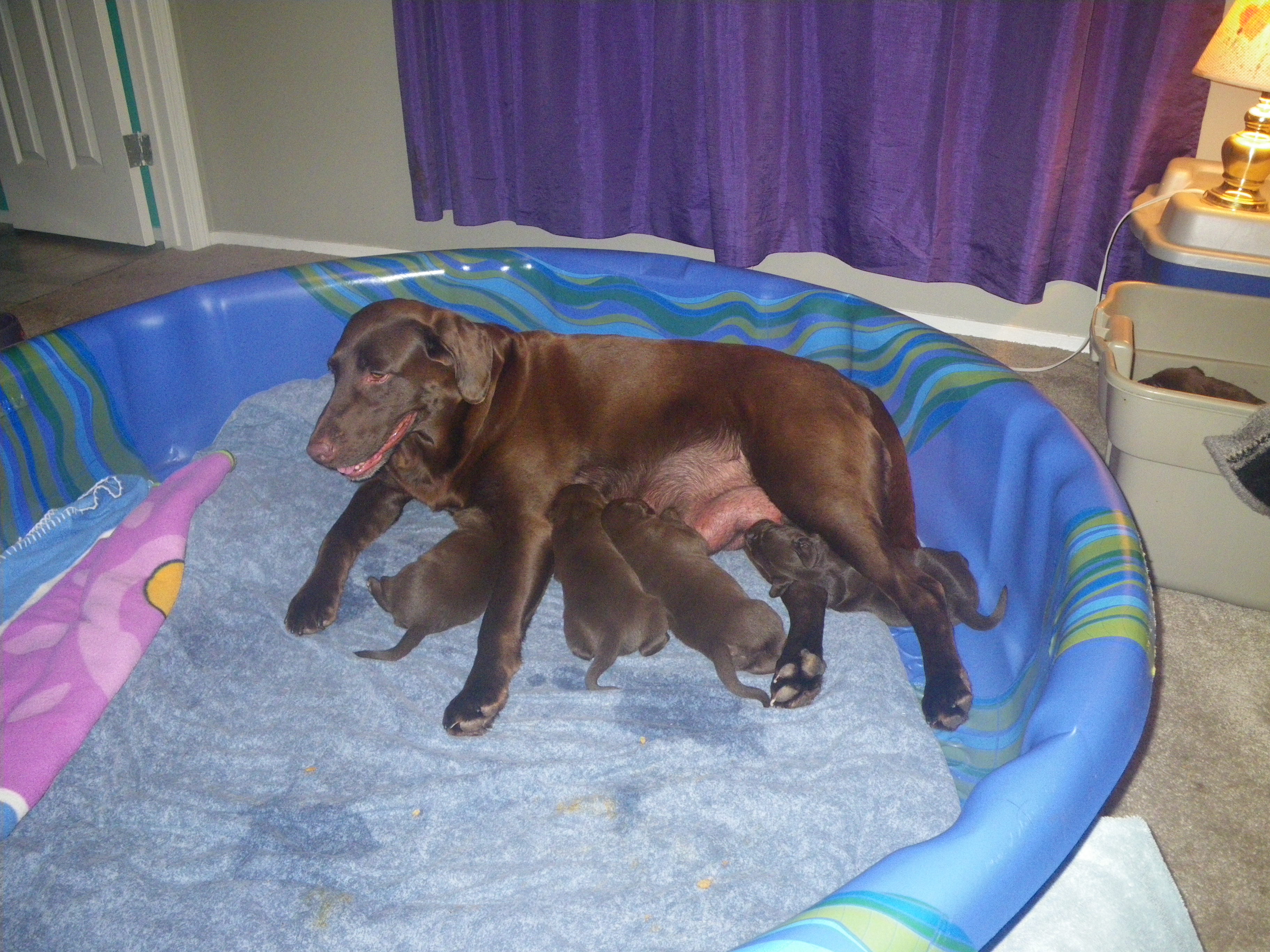 Blue right howling!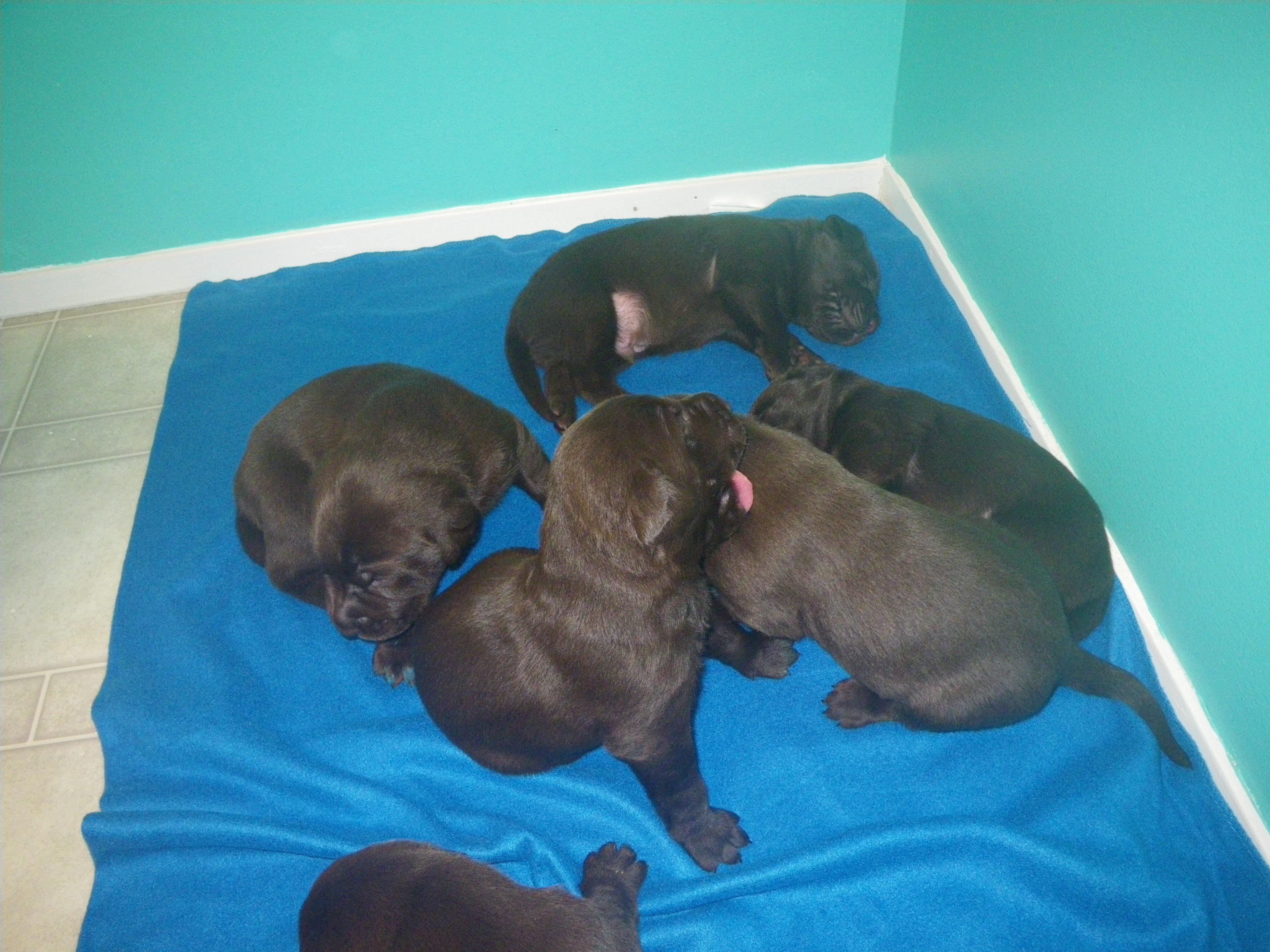 The last couple of days have seen some tremendous changes in the puppies.  They are changing from peanuts into pups.  Their eyes are opening (so I don't like to take too many pictures unless they are sleeping). They are starting to stand and walk (mostly fall so they look kind of drunk). And some are interested in Mom's food.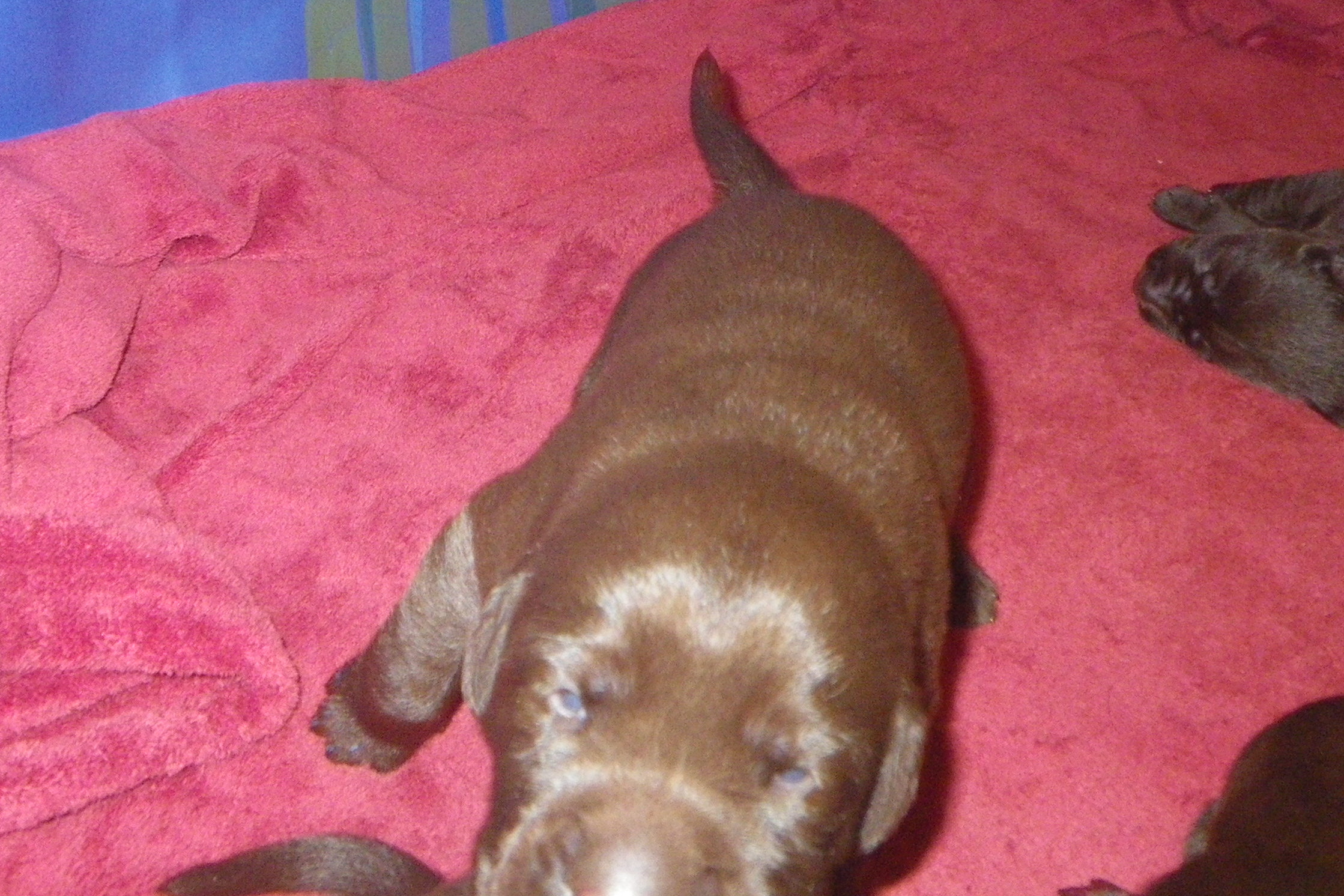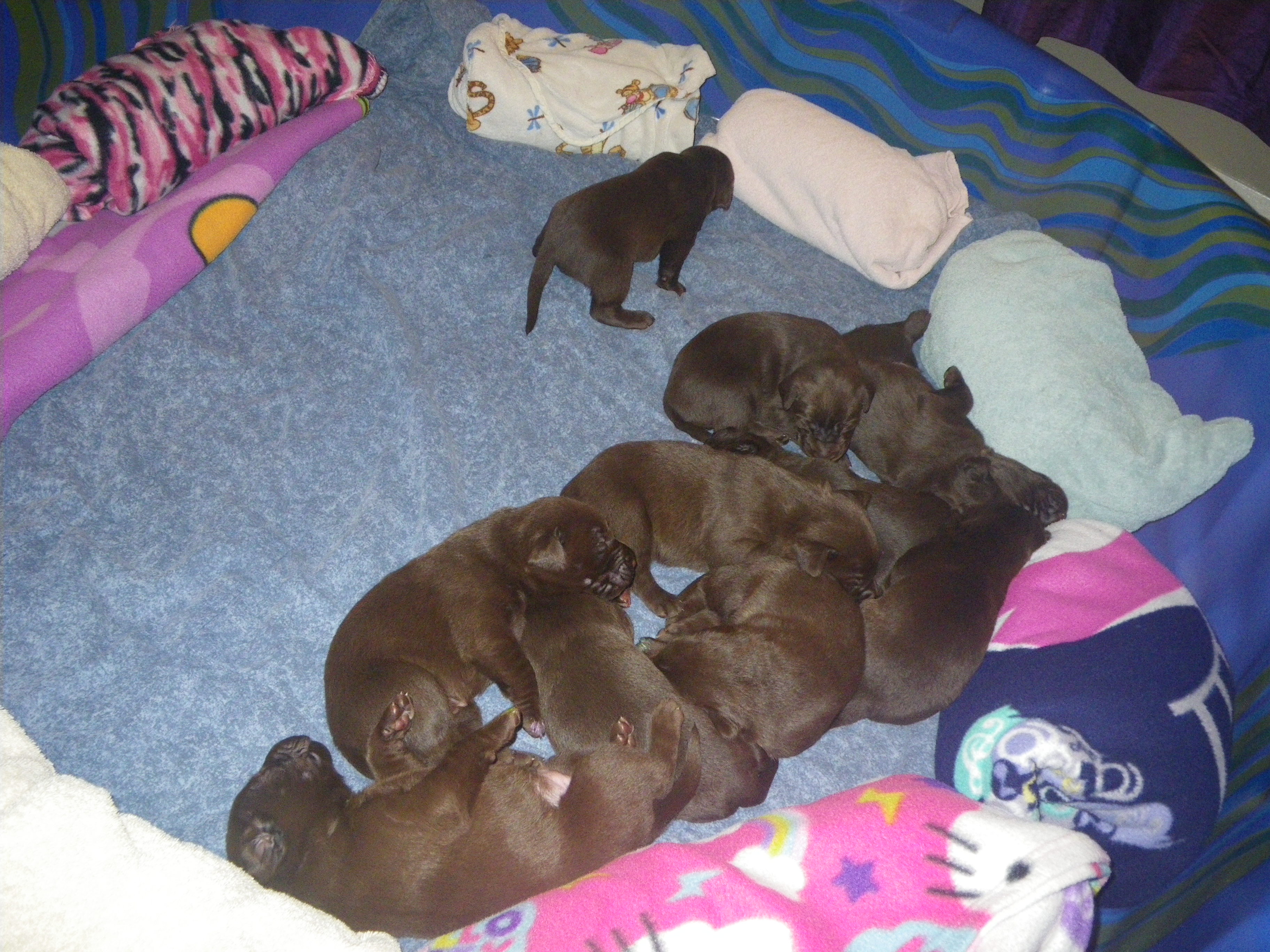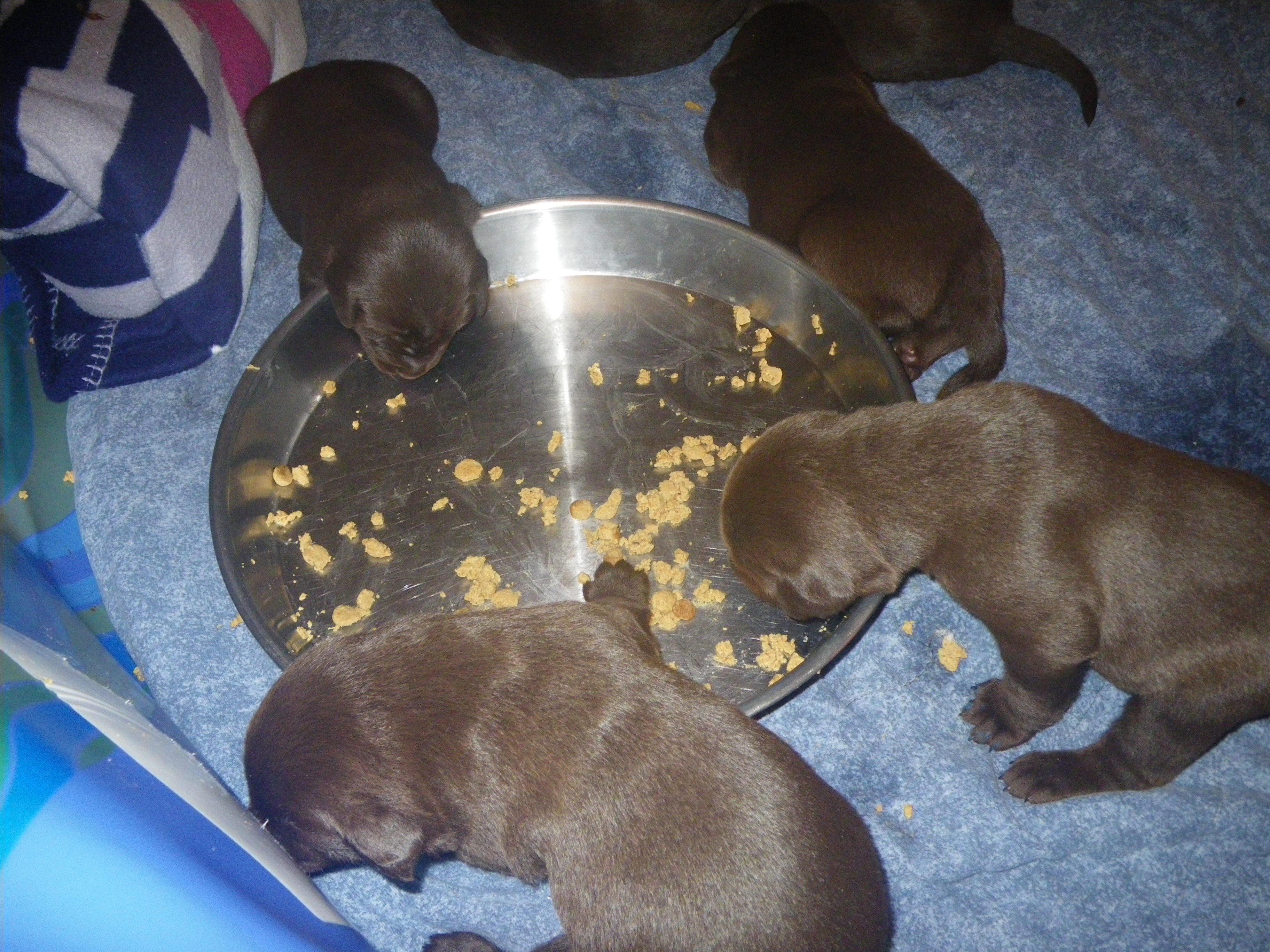 So it seems that I need to upload videos to YouTube and then create a link on the videos page.  It has not been working quite the way I had hoped, so here is the link to the youtube channel.  Hope it works.
/